Overview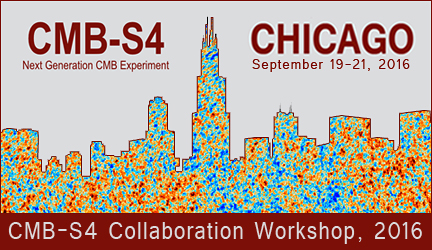 This is the fourth of a series of biannual "Cosmology with CMB-S4" workshops dedicated to developing the next generation ground-based Cosmic Microwave Background program, CMB-S4. The first two days of the workshop are dedicated to CMB-S4. The third day will be an overlap day with the
"Futures Cosmic Surveys"
, which is being held at Chicago September 21-23.
The CMB-S4 workshop will start with a review of the science case presented in the recently completed first edition of the CMB-S4 Science Book, followed by sessions dedicated to working on refining the science driven requirements for the CMB-S4 instrumental configuration.
We will review the set of instrumentation white papers, now being drafted, that summarize the current state of relevant technologies for CMB-S4 and identify R&D efforts to advance them for evaluation for possible use in CMB-S4. We will work on the road map to determine the instrumental configuration of CMB-S4.
The goal of the overlap day (Wednesday September 21) with the "Cosmic Surveys" workshop is for the two communities to update each other on their future plans and to explore the synergistic and joint analysis of the combined data sets.
Scientific Organizing Committee
Francois Bouchet
IAP, CNRS
John Carlstrom
Chicago/KICP, Argonne National Lab
Tom Crawford
Chicago/KICP
Scott Dodelson
Fermilab/UC
Kent Irwin
SLAC and Stanford
Lloyd Knox
UC Davis
Adrian Lee
U.C. Berkeley, LBNL
Jeff McMahon
University of Michigan
Amber Miller
University of Southern California
Clement Pryke
University of Minnesota
Suzanne Staggs
Princeton University
Acknowledgement
We acknowledge support from
Argonne National Laboratory
for this workshop.